Networking and socializing is the primary reason for holding a cocktail party and food is a vital component of gathering people together. Therefore, making a party a success is because of the kind of experience your guests have at the party.
Little types of creative talent utilized in the arrangement of food is the chief attraction. It makes people attempt different foods, which they do not frequently order at a hotel. Most of the catering proficiency is depicted in this way. It is a way of incorporating different dishes through culinary pleasure.
With the continuing exposure to diverse cultural dishes, catering groups are employing these into their banquets on special functions such as a cocktail party, or interracial weddings. The networks you make, individuals that motivate you are regularly met at parties that uses less time being limited to round tables for a meal.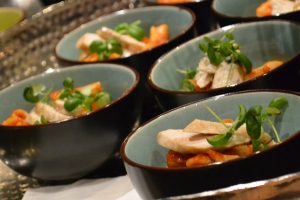 Nowadays events are finding assortments of small bites like bowl food, which is enough to be satisfied and success when entertaining their customers or friends. In fact, it generates a mood of entertainment and incorporation when a setting is somewhat small to accommodate chairs and tables. Typically, you get a variety of seafood, different cuts of meat, fruits, and healthy produce.
Bowl Food
It is evident that bowl food has become one of the culinary achievements in the current world. Importantly, there is no restriction to what can serve in tiny bowls. For instance, you can start with a vegetarian course, two meat courses, and end with two desserts. Each served in small Chinese ramekins, cups, coupes, glass, and bowls.
Further, served in little bowls sufficient to grasp in your hand, Daksha's Gourmet Catering can create a satisfying and a light meal permitting two different containers for each person. The food is served on trays together with a dessert fork by our certified carters. You do not need to find somewhere to sit on clumsily with a plate of food on your knees.
The Loveliness of Bowls
There are little things as easy and consoling as holding a tepid bowl full of tasty food at a cocktail party. This ordinary piece of dinner set has gained a pitch in status, growing from just a bowl in home and restaurant kitchens to an alluring method to serve culinary dishes, and enormously satisfying manner to eat.
There is genuine originality in acclimatizing food to your preferred bowl, and the excellent part is that everything goes. Cozy food bowls, smoothie bowls, Burrito bowls, and the selections are infinite. You can become experimental or settle in classics to suit your dish.
The appeal of the bowl culinary tendency is the notion that it resonates how most of us feel towards food. The excellent healthy dish is an enjoyment to it; it does not require anything apart from the use of simple cutlery for eating and display.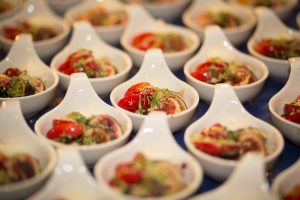 Additionally, bowl food is multi-sensory; the pleasant feeling of a bowl makes use of your hand. The inclination works with all kinds of food from pasta, sweet dessert brews, pasta, stir-fries, muesli fruit, or noodle salads. Moreover, you can heap food on the bowl, or assemble it carefully. Nevertheless, you are feeling your food, and the dish becomes your friend.
Why Use Bowls for your Cocktail Parties?
The fame of bowls owes to the alterations food trends and lifestyle. For instance, eating habits are nowadays more informal and are no longer centered in the dining space. Therefore, bowls provide them as a relaxed method of eating.
Various cuisines are a primary influence. Apparently, the development in the reputation of universal foods like Italian, Asian, American, and Moroccan cooking has led to the increased use of bowls. Well and healthy ways of eating is another factor as soups and salads are paramount in people diets.
Another factor that has significantly contributed to the use of bowls is versatility. With little space, most people are not likely to have similar dishware. On the contrary, bowls can be independently used to serve food at a cocktail party.
Therefore, cold or warm party foods served in a bowl by us is always delicious and a mass pleaser. For more critical food options, but maintaining similar casualness, bowl food menu is very satisfying and the ideal solution for cocktail parties.